Ginkgo Film Coating Technology Corp. takes out a patent on environmentally friendly glitter film, striding forward to "Green Enterprise"
2019/12/30
Ginkgo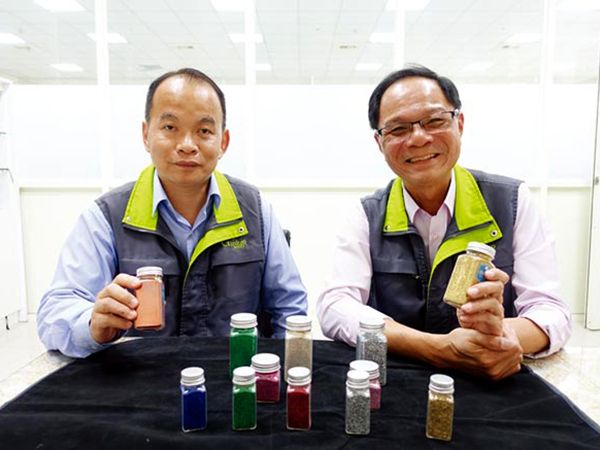 Mr. Chen, CEO from Ginkgo (at the right part of above picture), Mr. Lin, general manager from Ginkgo and glitter powder made of environmental glitter film.
Ginkgo Film Coating Technology Corp., inherited from Japan's evaporation technology, to achieve the goal of coexistence of environment and development, for over 30 years, has continuously pursued more environmentally friendly processes by comprehensively promoting the hazardous material process management, investing tens of millions of capital and manpower in establishing RTO (Regenerative Thermal Oxidizer) which is highly effective environmental equipment to eliminate harmful substances and meets the strict environmental regulations.
In recent years, through long-term cooperation with the Industrial Technology Research Institute, Ginkgo has overturned the previous processing processes, adopted biodegradable materials (films and papers), launched environmentally friendly glitter films (shimmering powders, sequins), and obtained a patent certificate issued by Intellectual Property Office in 2019, which is a success step forward a "green enterprise".

Evaporation industry used PVC, OPP and other plastics in early stage, and using plastic films (PET polyester film, etc.) as substrate instead. How to keep environmental protection and economic development coexisting in harmony is the massive challenge for evaporation industry. At present, the glitter film is readily available in daily life and is made into sequins and glitter powder after cutting-up. It is widely used in printing, clothing, stationery, creation and other appearance decoration. Especially during the Christmas season, when the glitter powder (shimmering powder) is heavily used, a lot of micro plastic pollution will be created.

To avoid the environmental damage of plastic glitter, through the long-term cooperation with Industrial Technology Research Institute, Ginkgo overturns the producing process, adopts the biodegradable material (film and paper), and develops the eco-friendly glitter films (powder and sequins). Currently, Ginkgo has acquired the patent license, number M586675 issued by Intellectual Property Office. The structure of glitter film, developed by Ginkgo Film Coating Technology Corporation, can not only bring the visual enjoyment but also prevent causing the micro plastic. Biodegradable glitter is both harmless to the environment and the green material proved by practical testing.
The main characteristics of the eco-friendly glitter are as below:
Green production: The whole production is friendly to the earth. The partial material can be recycled, preventing producing the damaging waste.
Harmless ingredients: The films and the original materials are verified non-poisonous substances. Even when it was burned, it could still avoid producing toxic gas.
Natural decomposition: It can be naturally decomposed, reducing the burden of the environment.
Function remain: Customized for different proposes, such as wrapping paper, sequins, and cutting powder (glitter powder).(Commercial Times Huang,Jyun-Rong report)